Penile implant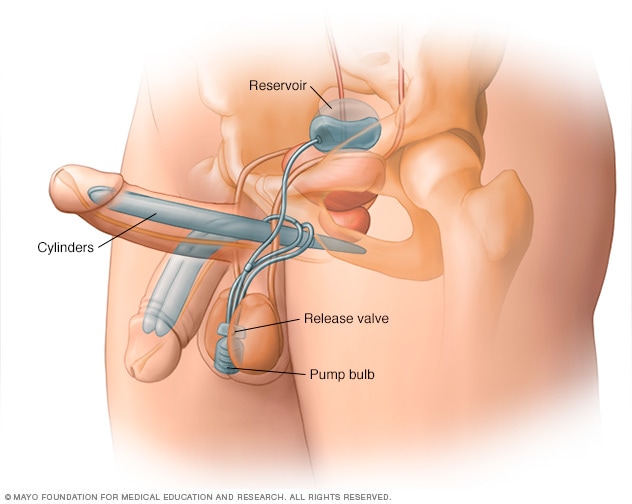 Mention erectile dysfunction in a room full of guys you've known for decades and you risk being greeted with deadly silence. Even though one in four men over the age of 60 suffers from some form of erectile dysfunction, men generally don't want to talk about it.
Prescribed pills are often the first line of action in treating erectile dysfunction, but often they are not an instant solution. When pills are not a reliable option, a penile implant can offer real hope. A penile implant (or penile prosthesis) is a medical device that is custom-fitted and surgically placed into a penis to produce an erection that looks and feels natural.
Coloplast penile implants
After decades of specialising in men's sexual health, Coloplast is a trusted leader in erectile dysfunction solutions. A penile implant is a discreet device that is placed in a man's penis and is designed to help him achieve an erection. Once implanted, it helps the man regain control of his body and can be used at any time, unlike other treatment options for which there may be a short waiting period before they are effective. A penile implant can be an effective solution for men with ED that has not been resolved by other available treatment options.
How penile implants work
There are two different types of penile implants available today. The three
-part inflatable penile implant is the most popular27 and a malleab
le penile implant is also available. Both types of implants are adapted to your body to allow you to have a satisfactory erection for sexual intercourse. Your sensitivity and ability to ejaculate should not be affected.
The main difference between the two types of penile implants is that the three-part inflatable implant produces a more natural erection while the malleable implant (flexible rods) produces a permanently firm penis.
Inflatable penile implants
The Coloplast Titan® Touch inflatable penile prosthesis is a self-contained, fluid-filled system made of silicone and Bioflex®, a soft but durable material. The Titan penile implant is designed to mimic the appearance and performance of a natural erection.
An inflatable penile implant consists of three parts:
A reservoir placed in the abdomen
Two cylinders placed in the penis
A pump placed in the scrotum
Malleable penile implants
The Genesis® is a flexible penile implant that consists of two firm but flexible rods that are placed in the body of the penis. This implant has no other parts. To get an erection, simply hold the penis and move it to the desired position. When you are finished, you bend it down to conceal it. The malleable penile implant can be a good option for men with limited dexterity.
Reasons to consider a penile implant
Patient Satisfaction Rate : Patients report a 98% satisfaction rate for inflatable penile implants.
Other Patient Satisfaction Ratings : Patients treated with penile implants appear to be significantly more satisfied with their treatment option than those treated with erectile dysfunction medications or other treatment options.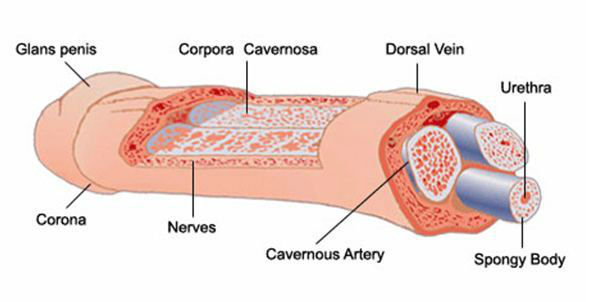 Discreet treatment for erectile difficulties: A penile prosthesis is not visible when your penis is flaccid. Your partner will not know that you have received an implant to treat your erectile difficulties unless you tell him or her.
Minimal recovery time: Every man is different, but the typical recovery time after a penile implant procedure is four to six weeks. Once you are fully recovered, you can resume sexual intercourse.6
Cost-effective: Penile implants have been shown to be the most cost-effective treatment for erectile difficulties over a 10-year period.30
Insurance Coverage: Penile implants are prescribed by a doctor and are generally covered by most insurance plans, including Medicare.
Find a doctor
Part of the reason why so many men are discreet about their erectile difficulties is that they have been conditioned to believe that erectile dysfunction is a natural consequence of aging. This is dead wrong!
Aging may mean facing occasional back pain and hearing difficulties, but there is no reason to continue to struggle with erectile difficulties. Whether your erectile difficulties are the result of diabetes, heart disease, neurological disorders or cancer treatment, you can get help.
If you think a penis prosthesis is the right choice to treat your erectile difficulties, our doctor locator can help you find a doctor in your area who specializes in helping men with erectile dysfunction. Remember, the sooner you start to regain control of your sexual health, the sooner you can feel like your old self again.
Frequently Asked Questions
Can I have an orgasm with a penile implant?
You should be able to have an orgasm with a penile implant if you were able to have one before your procedure. Talk to your doctor about the expected result.
Will I lose length after receiving a penile implant?
Each penile implant is adapted to your anatomy. Discuss this in more detail with your doctor.
Will I be able to have spontaneous erections with a penile prosthesis?
The Titan and Genesis allow you to have an instant and spontaneous erection whenever you want. However, implant surgery makes it impossible for you to have a "latent" or natural erection that is not dependent on the device. Therefore, you should carefully consider whether an implant is the right choice for you.
Will anyone notice that I have an implant?
The implant is placed inside your body. The Titan® Inflatable Penile Implant is not visible. The penis appears relaxed and normal when it is in the flaccid state, and it is not obvious by looking at a man that he has an implant. The Genesis® Flexible Stem Penile Implant remains firm when not in the erect position, and it can "show through" through clothing.
What is the recovery time?
Each individual is different and, therefore, their recovery will also be different. Typical recovery time is 4 to 6 weeks. Your doctor will determine what you can and cannot do during this time. It is important to follow the recommendations your doctor gives you to ensure the best possible outcome.
Is the cost of a penile implant covered by insurance?
A penile implant is prescribed by your doctor. Most insurance policies, including Medicare, cover the implant. Check with your doctor's office and your insurance company to determine your actual cost.
How are Genesis® and Titan® Touch implants different?
Both implants give you the opportunity to have an erection that is satisfactory for sexual intercourse. The main difference is that the Genesis penile implant is a malleable implant consisting of two rods that are placed in the corpus cavernosum. There are no other parts to this implant. To get an erection, you simply hold the penis and move it to the desired position. When you are finished, you put the penis back in the previous position. With the Titan penis implant, you inflate the cylinders by pressing the pump bulb into the scrotum. You can control the firmness of the penis by pumping until you are satisfied with the erection. It's best to discuss each implant with your doctor to make sure you get the implants that are rights reserved for you.
Are there any risks associated with penile implants?
As with any surgery, there are certain risks associated with the penile implant procedure, including pain, reactions to anesthesia, repeat surgery due to infections or mechanical problems with the device. Discuss these with your doctor in more detail.
Can I still have an MRI with an implant?
Yes, the device is conditional on an MRI. A letter confirming the MRI conditions is available. Please click on the "about Coloplast" link at the bottom and fill out the contact form to request that it be sent to you.